07.06 Landscapes And Places Photography Assignment List
Santa Maria della Salute
"Venice is one of the most spectacular places in Europe," Onur Cepheli says. "Last time I went there it was carnival time. I was having a really hard time deciding whether to capture great urban landscapes or the people attending the carnival."
© Onur Cepheli
What makes a great travel or landscape photo? Many things, of course, but we've found that the best images always tell some sort of story.
For this assignment, we didn't want you to simply submit pretty pictures. Beautiful photos are all well and good but they're a dime a dozen these days.
To set your travel and landscape images apart, we asked you to include some interesting elements in the frame that give a sense of place or context. We wanted to imagine we were standing right there beside you, whether you were taking a photo on a dusty street in Marrakesh, or turning your camera toward a vast plain in Montana. With our top 10 favorite images from readers for this assignment, we felt we were right there with you to capture these striking moments.
Sunset over the Pantheon
Richard Kinler shot this from the roof terrace of his hotel next to the Pantheon in Rome. It was captured with a Canon EOS 5D Mark II and an EF 16-35mm f/4 lens at 16mm, 1/8 second.
© Richard Kinler
Sunrise from Steptoe Butte at the Palouse
"I took this photo on June 15, 2016, from Steptoe Butte of the Palouse located near Colfax, Washington," Peter Reali writes. "It was at 6:30 a.m. as the sun came up and we had beautiful skies. This is a farming community with a large valley with rolling fields of canola plants. The camera I used was a Nikon D610 with a Nikkor 28-300mm lens set to 190mm in manual focus at 1/50 second, f/5.6, ISO 400."
© Peter Reali
Riomaggiore, Italy, Dusk
Alan Bogart shot this image of Riomaggiore, which is on the coast of the Cinque Terre in Italy, with a Nikon F2 SLR using Kodachrome film and a tripod. The photo was scanned using an Epson scanner, and processed with Photoshop and Nik Color Efex Pro 4.
© Alan Bogart
Convocation
"This image was taken at the Bayan-Ölgii Golden Eagle Festival in Mongolia in October 2016," Megan P. Galope writes. "At the beginning of the festival, all of the eagle hunters line up and parade around the arena. I felt that the man in green thought his eagle was especially talented and wanted to make sure everyone knew that as well. (This festival is featured in the recent documentary, The Eagle Huntress, about Aisholpan Nurgaiv, the first female to ever compete in the festival.)" The image was captured with a Canon EOS 5DS R at 135mm, f/5, 1/1000 second, ISO 250.
© Megan P. Galope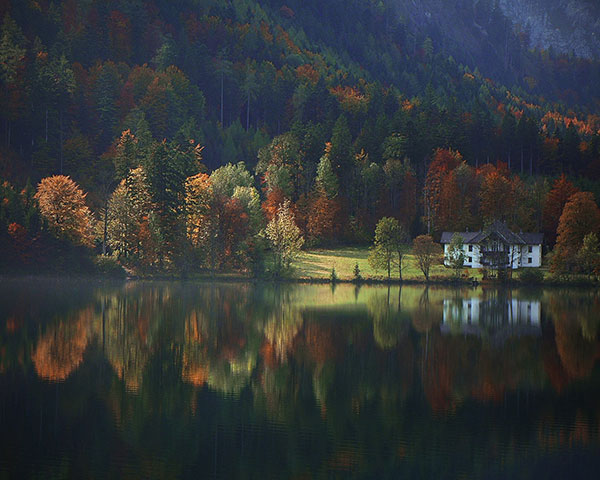 Langbathsee, Austria
Raymond Muzika shot this tranquil, reflective scene in Austria with a Panasonic Lumix DMC-FZ5. It was slightly enhanced in Photoshop Elements, he says.
© Raymond Muzika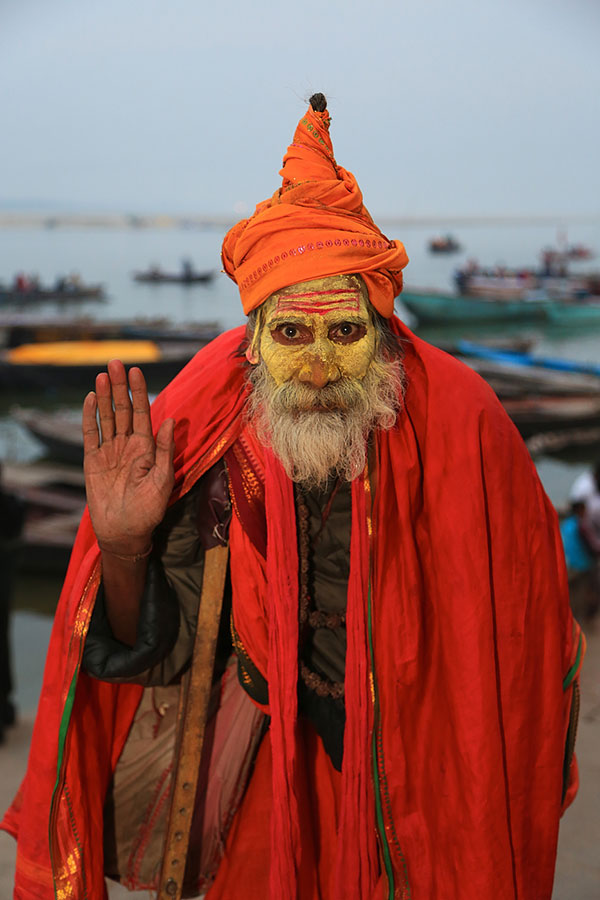 Ganges Sadhu Guard
"This Hindu holy man hovers around the shore of the Ganges River in Varanasi, India," Tom Carroll notes. "The sadhu is solely dedicated to achieving liberation, the fourth and final stage of life, through meditation and contemplation of Brahman. Sadhus often wear saffron-colored clothing symbolizing their renunciation—or more specifically 'giving up the world and leading a holy life' or 'freedom from lust, craving, and desires.' The yellow ash on the holy man's face is a reminder to each of us that the plan for each of us is 'from ashes to ashes, dust to dust.'" Carroll shot it with a Canon EOS 5D Mark III and a Canon EF 24-105mm f/4L IS USM lens at 58mm, ISO 800, 1/60 second, f/4 with some fill flash.
© Tom Carroll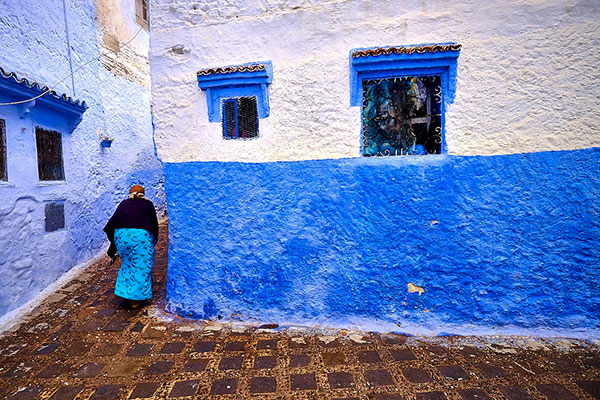 Blue Maiden
"This matron of Chefchaouen in northwest Morocco strolls to market through the narrow walkways of the village," Tom Carroll writes. "The village fortress was founded in 1471 and its buildings today are uniformly painted with a blue wash giving rise to its reference as 'The Blue City.'" He shot it with a Fujifilm X-T1 and an XF 10-24mm f/4 lens at 12mm, ISO 200, 1/210 second, f/5.6.
© Tom Carroll
Great Sand Dunes
"Colorado's Great Sand Dunes National Park provides a wealth of opportunities for the photographer and an otherworldly experience for the traveler," Timothy Van Minnick says. He shot this image with a Canon EOS 7D Mark II and a Tamron 150-600mm f/5-6.3 lens at 250mm, ISO 400, f/8, 1/800 second. The image was processed in Lightroom 6 and then converted to monochrome in Silver Efex Pro.
© Timothy Van Minnick
Different Angle on Rushmore
"While setting up a shot of Mount Rushmore, this group stepped in front of me and decided to have a different viewpoint," Richena Holbert says about this humorous shot. It was captured with a Nikon Coolpix S3100 at f/5.3, 1/200 second, ISO 80.
© Richena Holbert
To enter your photos in our Picture This assignments, visit Shutterbug's Galleries.
I've been seeing some great pictures of the places you have visited. As I look back at the photos I've favorite, I'm noticing a few things. I'm a sucker for backlighting, and I like small figures in a grand landscape. But as I look back at those pictures I realize that the ones that catch my attention initially may not be the best in the end. Small figures in a landscape can all of a sudden turn into an overdone archetype. One of my colleagues calls these pictures, "dude in a red jacket." And the backlit pictures, upon further reflection don't seem to have lasting meaning. 
In order to transcend these problems the photograph has to have more than one thing going on. Try adding another element. For example a beautiful landscape with, stunning light, and  a small figure with body language that shows struggle or happiness. A backlit cobblestone street with tourists just walking by is one thing, but if the subject is doing something interesting, like playing a violin on the street that's so much better. 
I've also seen many pictures of people either up close, or far away, how about something in between?
The last thing I want to talk about is post processing. Although I like my chili very spicy, I don't feel that way about photographs. In the last few days I have looked at way too many HDR pictures, over-saturated pictures, and photos with overused shadow and highlights and clarity sliders. What's terrible is that most of the overdone shots were taken in places that were already incredible to look at and photograph. 
Yes, tasteful post processing is very important in creating dramatic, compelling photography. I can't tell you how much is too much, so rather than try to explain I'll cop out and use former Supreme Court Justice Potter Stewart's threshold test for obscenity, "I know it when I see it."
Permalink